The Chai Club is a passionate group of donors who make a sustaining commitment each month to Jewish life in Northbrook. By joining, you're telling the Northbrook Jewish Community that they matter and that they are not alone.
Monthly giving is an easy and convenient way to give. By setting up your monthly gift today you can relax knowing your support is working every day and when it is needed most. And if your situation changes for any reason, you can always increase, decrease, pause or stop your gift.
Every dollar you donate goes directly to supporting our local Jewish community. Just imagine the impact you can make with your monthly gift.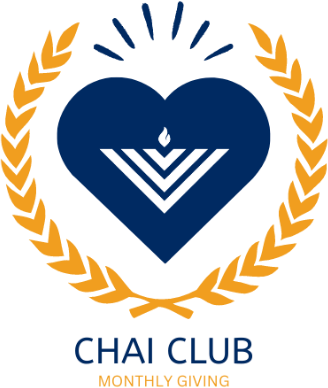 Join the Chai Club Today
Why give monthly?

Tailored to you: You can give in a sustainable way by donating an amount that is manageable for your budget. The community appreciates gifts at all levels, whether they are big or small!

Hassle Free: Your donation occurs automatically each month. You can change the amount or cancel anytime.

Cost Effective: Monthly giving means lower administrative costs. This ensures more of your money goes to where it's needed most: to provide meaningful Jewish experiences in our community. You'll also save on postage, check, and envelope costs while eliminating paper waste.

Long Term Impact: Your monthly donation allows us to have a long-term, planned approach towards fulfilling our mission, making a difference every day.

Connection: You will join a club of individuals dedicated to creating a more robust and unifying celebration of Jewish life in Northbrook. You will also receive regular updates that share how you are growing the Northbrook Jewish Community.

Torah Study Dedication: As a Chai Club partner, you are invited to dedicate two (2) Torah Study Classes during the year. This dedication can be in honor/memory of a loved one or a special occasion.
Start your monthly gift
Join the Chai Club Today
$540/month
Be a platinum partner in building community and continuity.
$360/month
Covers a month of JText for local teens.
$180/month
Provides a month of Jewish Education for a Hebrew School Student.
$108/month
Provides adult Jewish Education.
$54/month
Provides holiday programing for an assisted living facility.